Space Invaders - The classic console game
(Size 30k - Requires Flash Plug in)
Space invaders will load in a new window, enlarge it to cover the full screen.
- Click on the start a new game option.
- Use Arrow Keys in the keyboard to move your tank left or right.
- Space Bar to shoot.
- You have three LIVES to eliminate the falling "space invaders". The SCORE will show how effective are your point and shoot skills. The Ships that crosses at the top, once in a while, are worth higher points.
- After you eliminate all the invaders a new game level appears. The rest of the game is old history - or have to discover it.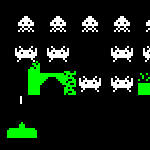 Author: Paul Neave