BLOX - Puzzle Game
[02.1] (Size 255k - Flash games require Flash Plug in)
Blox is great brain teaser, similar to the popular puzzle game sokoban, but gravity makes the difference. The player must eliminate all blox of same color or figure, using the available devices and possibilities in each level. Before pushing the blox you have to analize in advance what blox to move and where, there is a logic to solve each level.
Point the mouse to the block you want to move and drag it to the desired location.
10 levels are available in this version, the 2 first ones are tutorials, and then the complexity increases in the next 8 levels. If you really like this puzzle you could buy 60 levels of it. Definitely a great exercise for your mind.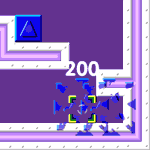 Author: 4gameplay